LUNASCAN MISSION  REPORT: Session # 20140831 - 03

DATE-TIME:                                                                                                                             

August 31. 2014

Q

MISSION TYPE:

Routine

Primary Targets:  Theophilus, Mare Crisium

Colongitude: 192.1°
Phase: 252.9°
Lunation: 23.01 days
Illumination: 35.3%
                                 

SYNOPSIS:

BOS Q = 0h40m CUT

EOM 1m31s elapsed or Q

 

Mission #3 for LIMO and shakedown. Some problems encountered but by 13 minutes good images were coming in, in spite of the low elevation and obstructions introducing false colors and distortions in brief episodes. Concerned about the computer difficulty in booting up the SSI camera. Next mission may tell the tale. Biggest problem was LOS of WWV on the SSI camera recording. Excellent WWV on all other recordings. Might have been corrected by Mission #4. No anomalies, TLPs or fastwalkers observed.
<![if !vml]>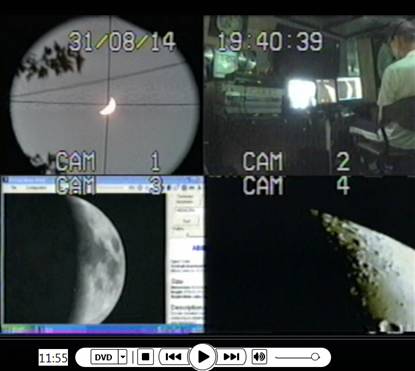 <![endif]>
<![if !supportLineBreakNewLine]>
<![endif]>
1. PRELIMINARY DATA
QUAD
()
Durat = 1h31m45s
Good WWV
0h20m CUT = 20:13:09 Target Acq
20:13:54 time fix 01h14m CUT
20:55:05 EOM

Q-SELECT
AOK
Good WWV
SKYCAM/METEOR CAM
AOK
Good WWV

CABCAM
AOK
Good WWV
<![if !vml]>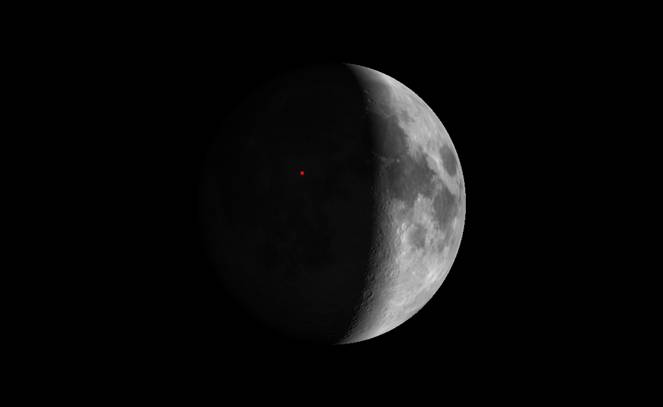 <![endif]>


2. EPHEMERIS DE421
Observatory: +3734' +8732' Tz: -4h00m
Date: 2014-08-31 20:11:13
Date (TT): 2014-09-01 00:12:22
(J2000) Right Ascension: 15h13m51.77s
(J2000) Declination: -1602'56.7"
(Date) Right Ascension: 15h14m41.24s
(Date) Declination: -1606'04.6"
Distance: 383807Km
Apparent diameter: 31.13'
Colongitude: 349.8
Phase: 107.5
Lunation: 6.42 days
Illumination: 34.9%
Sub-solar latitude: -1.1
Libration in Latitude: -0237'
Libration in Longitude: -0728'
Position angle: 16.7
Azimuth +21009'
Altitude +3047'
Rise: 12h58m
Transit: 18h22m
Set: 23h43m
Rise azimuth: +10836'
Transit Altitude: +36
Set azimuth: +25000'
<![if !supportLineBreakNewLine]>
<![endif]>
<![if !vml]>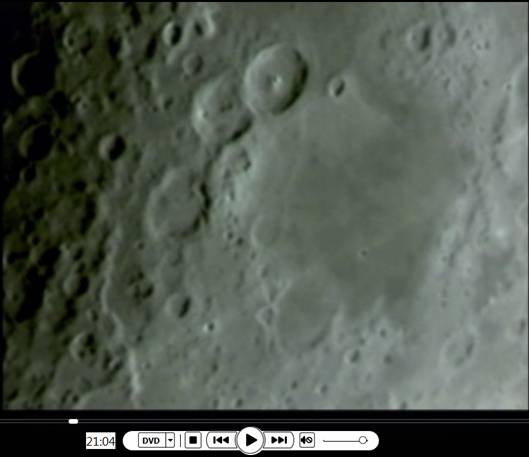 <![endif]>
3.. DETAILED REPORT
elapsed, target acq
no wwv
iris/contrast problem
low light/obstructions?
corrected
good images
sharp limb
theo
good ray s. of theo
imagers good/ perfect for backdrop and our work
39:00 images degraded
improved again
great rays
Theophils, Cyrillus and catherina
Deter @ 52:00
1h31m45s eom
time fix
= 0h40m CUT
4.  EQUIPMENT
RECORDERS
VHS1 on LIMA 2 (Quad)
VHS2 on LIMA 2 (VMA/SkyCam IR [B Cam] on Quad Cam 3 position)
VHS3 on LIMA 2 (CabCam, color, Quad Camera 2 position)
DVR1 on LIMA 2 (Q Sel)
DVR2 on LIMA 1 [default] (SSI Camera, Quad Cam 4 position)

QUAD CAMERA POSITIONS:
All camera outputs to Quad SAMSUNG SCQ-041P
Camera 1 mini finders (SC-NVA5's), A (wide angle) & B (9x50 #51611 Celestron finder w/crosshairs)
Y=video R=power
Camera 2 CabCam cam 1 (color, SC-NVA5 to Quad), cam 2 (Sony CL-34S-2T, night vision, security, to Lab via RG59)
Camera 3 VMA graphics/T1392 E-M Datalogger/SkyCam IR (LPI / C8 (LPI not used)
Camera 4: SSI/C-8. .

COMPUTERS:
PC1 System
Dell Intel Pentium 4 processor
2 Gigahertz, 256 meg RAM
C Drive, 40 GB
D Drive, 111 GB
Digital to Analog Converter 2: TEP-100 Elite Pro II
Aperture video recorder DVR2
No graphics used
Feeding Quad Cam Position 4

PC2 System
Compaq Presario sr1218nx computer (1)
Digital to Analog Converter 1; TEP-100 Elite Pro II
VIRTUAL MOON ATLAS graphics left
EM DATALOGGER T1392 right set for
( X ) MilliGauss ( ) MicroTesla
( ) KII on rod for CabCam pickup
Aperture video recorder VHS2
Feeding Quad Cam Position 3

CAMERAS:
Camera 1
Celestron Neximage Solar System Imager
SSI or A camera = 2032/5=400x
No Barlow or focal reducer used
delivers simrange of 600 mi and FOV of 400 miles
CCD sensor (Charge Coupled Device)
Type HAD (1/4")
OPTICS, prime focus 5 mm
Active area 3.6mm x 2.7 (4.5 mm diagonal)
Pixel size 5.6 micron, square
VGA resolution (640x480) color ¼" CCD chip
Maximum usable framerate @ 640x480
(uncompressed): 30 fps
#11 yellow written filter
Compression 1420
?-Bit on-chip A/D converter
3 MP
Sensitivity <1 lux
ACOMP Computer

Camera 2
LPI (NOT UTILIZED THIS MISSION)
LPI or B camera = 2032/6=340x
CMOS sensor by Hynix ~310kPix, (Bayer matrix), Complementary Metal Oxide Semiconductor Semiconductor Inc.
Meade Lunar Planetary Imager
Type HV7131E1 (1/3")
OPTICS, prime focus. 6 mm.
Active area 5.18x3.90 mm (6.5 mm diagonal)
Pixel size 8.0 micron, square
VGA resolution (640x480) color
Max usable framerate @ 640x480
(uncompressed): 36 fps
Compression 1420
8-Bit on-chip A/D converter
1.3 MP
Sensitivity <?lux
BCOMP Computer
Compaq Presario sr1218nx XP Home
2.67 GHZ processor, 760 mb RAM,
C Drive 80 GB hard drive

OPTICAL TUBE:
Celestron C-8 SCT 8" optical tube
2032 mm f/l
F10
Resolution at lunar range = 0.68 /
.81086 mi or 4281.36469 feet
(30.19' X 60 = 1811.4" /.68' resol = factor of 2663.82353
2160 miles / 2663.82353 = .81086 mi resolution)0.621 mi/km
1 m = 3.28 '

SKYCAMS
Camera 3, CX480
Camera 4, GBC400

CONFIG:
(X) SSI in scope back
( ) Diagonal and ( ) binoc viewer. Extended hand control DOB Driver II



<![if !supportLineBreakNewLine]>
<![endif]>