LUNASCAN MISSION REPORT: Session # 20140720 - 01

Date-Time: 2014 July 20, 0300 hours, 8h00m CUT


Type: EMOR Targets: Copernicus & Tycho

1. PRELIMINARY DATA

VAN

QUAD
03:12:00 Q
0h12m CUT+-
Neg WWV
03:51:32 Q target acq on QS cam 4
04:47:25 Q EOM
Q-SELECT
Good
No WWV
FINDERCAM
No recording
CABCAM
No recording
ISS
Good Neg WWV

<![if !supportLineBreakNewLine]>
<![endif]>

Observatory: +37°34' +87°32' Tz: -4h00m

(J2000) Right Ascension: 02h43m11.32s

(J2000) Declination: +13°21'14.9"

(Date) Right Ascension: 02h43m59.36s

(Date) Declination: +13°24'51.1"

Apparent diameter: 31.04'

Sub-solar latitude: -1.5°

Libration in Latitude: +02°51'

Libration in Longitude: +07°29'

<![if !vml]><![endif]>
<![if !vml]>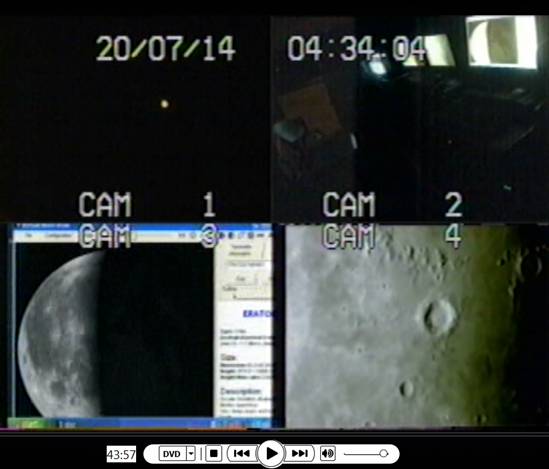 <![endif]>

3. REPORT:
elapsed DVRII, orientation, LOS
elapsed Quad 03:50:26 approx
No WWWV, carrier freq only
target acq
elapsed AOS
EL Tycho in shadow, Eratosthenes in shadow, Bullialdus good
focus, Copernicus
<![if !vml]>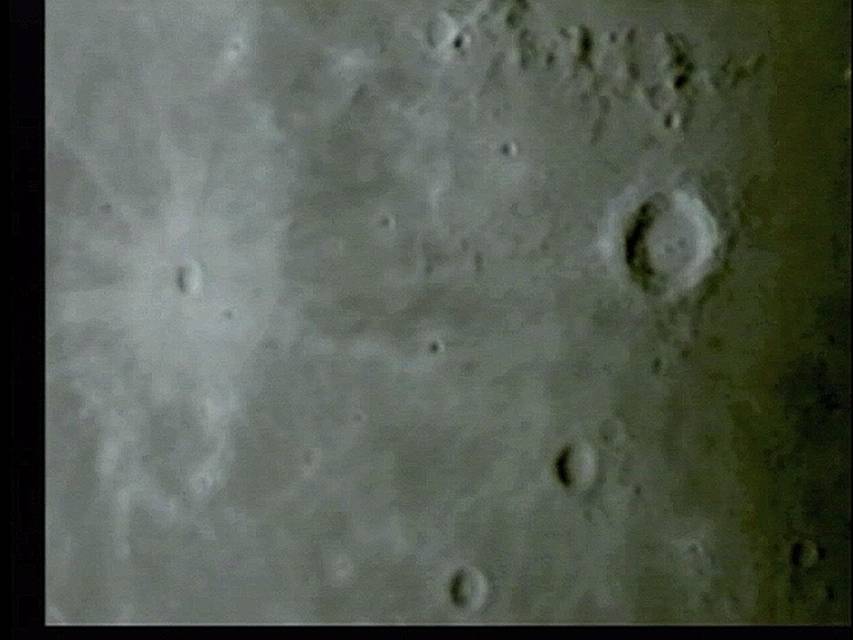 <![endif]>
TLI capture 003
EOM
4. CONCLUSIONS
Seeing conditions less than optimum and mission was cut short due to obstructions causing image problems. No TLPs, impacts, anomalies or fastwalkers observed.

========================

5. MODE LEVEL ONE
7/22/2014
VAN

DATA RECORDERS
VHS1 on LIMA 2 (Quad)
VHS2 on LIMA 2 (VMA/SkyCam IR [B Cam] on Quad Cam 3 position)
VHS3 on LIMA 2 (CabCam, CL-34S-2T 60' IR, color, Quad Camera 2 position)
DVR1 on LIMA 2 (Q Sel)
DVR2 on LIMA 1 [default] (SSI Camera, Quad Cam 4 position)

QUAD CAMERA POSITIONS:
All camera outputs to Quad SAMSUNG SCQ-041P
Camera 1 mini finders (SC-NVA5's), A (wide angle) & B (9x50 #51611 Celestron finder w/crosshairs)
Y=video R=power
Camera 2 CabCam cam 1 (color, SC-NVA5 to Quad), cam 2 (Sony CL-34S-2T, night vision, security, to Lab via RG59)
Camera 3 LPI (not utilized), VMA graphics
Camera 4: SSI/C-8.

COMPUTERS:
PC1 System
Dell Intel Pentium 4 processor
2 Gigahertz, 256 meg RAM
C Drive, 40 GB
D Drive, 111 GB
Digital to Analog Converter 2: TEP-100 Elite Pro II
Aperture video recorder DVR2
No graphics used
Feeding Quad Cam Position 4

PC2 System
Compaq Presario sr1218nx computer (1)
Digital to Analog Converter 1; TEP-100 Elite Pro II
VIRTUAL MOON ATLAS graphics left
Aperture video recorder VHS2
Feeding Quad Cam Position 3

CAMERAS:
Camera 4 position
Celestron Neximage Solar System Imager
SSI or A camera = 2032/5=400x
No Barlow or focal reducer used
delivers simrange of 600 mi and FOV of 400 miles
CCD sensor (Charge Coupled Device)
Type HAD (1/4")
OPTICS, prime focus 5 mm
Active area 3.6mm x 2.7 (4.5 mm diagonal)
Pixel size 5.6 micron, square
VGA resolution (640x480) color ¼" CCD chip
Maximum usable framerate @ 640x480
(uncompressed): 30 fps
#11 yellow written filter
Compression 1420
?-Bit on-chip A/D converter
3 MP
Sensitivity <1 lux
ACOMP Computer

Camera 3 position
LPI (NOT UTILIZED THIS MISSION)
LPI or B camera = 2032/6=340x
CMOS sensor by Hynix ~310kPix, (Bayer matrix), Complementary Metal Oxide Semiconductor Semiconductor Inc.
Meade Lunar Planetary Imager
Type HV7131E1 (1/3")
OPTICS, prime focus. 6 mm.
Active area 5.18x3.90 mm (6.5 mm diagonal)
Pixel size 8.0 micron, square
VGA resolution (640x480) color
Max usable framerate @ 640x480
(uncompressed): 36 fps
Compression 1420
8-Bit on-chip A/D converter
1.3 MP
Sensitivity <?lux
BCOMP Computer
Compaq Presario sr1218nx XP Home
2.67 GHZ processor, 760 mb RAM,
C Drive 80 GB hard drive

OPTICAL TUBE:
Celestron C-8 SCT 8" optical tube
2032 mm f/l
F10
Resolution at lunar range = 0.68 /
.81086 mi or 4281.36469 feet
(30.19' X 60 = 1811.4" /.68' resol = factor of 2663.82353
2160 miles / 2663.82353 = .81086 mi resolution)0.621 mi/km
1 m = 3.28 '

CONFIG:
(X) SSI in scope back
( ) Diagonal and ( ) binoc viewer. Extended hand control DOB Driver II